"Depth steaming green tea production areas" Shizuoka Prefecture at makinohara, Kanaya, Shimada city Kikukawa accommodation between the茶蔵The consistent manufacture and sale of tea from tea field management, customer safety and security still tea will be delivered.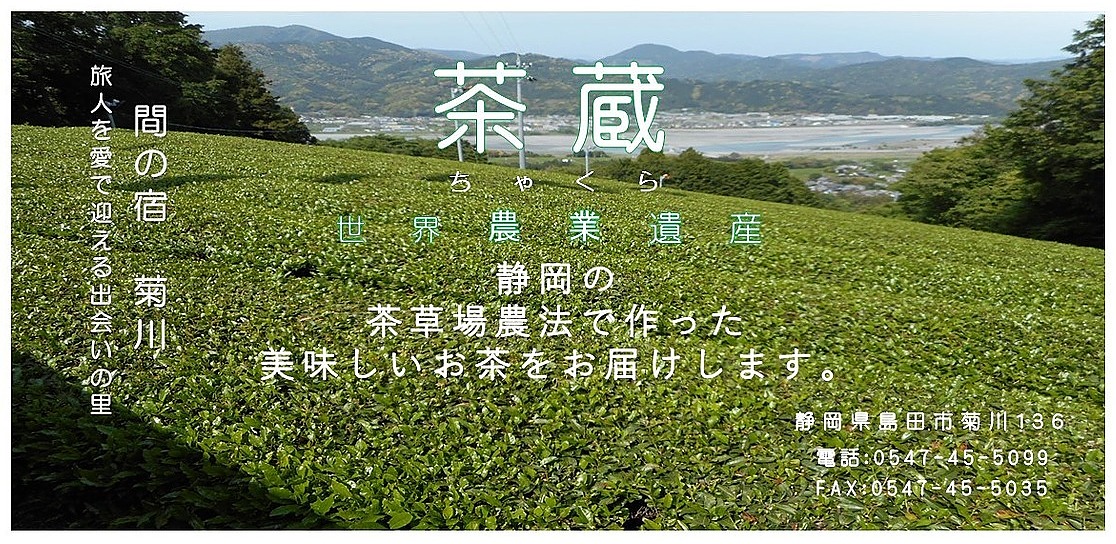 Tea storage commitment
World agricultural heritage site Shizuoka tea kusaba farming
Traditional farming methods cultivate a rich biological diversity, harmony with the environment

It is the activity that produces high-quality tea defended consequently creatures. Agriculture and biodiversity are same direction, have both evaluated from around the world and was recognized as world agricultural heritage.
Effect of tea kusaba farming tea plantations, tea
-Help keep moist soils of tea gardens and thermal insulation.
-Help the breeding of microorganisms in the soil, improves the soil.
-Brown grass is soon broken and becomes a natural compost.
-Prevent the outflow of the soil.
-Suppress the growth of weeds.

Biological diversity in tea kusaba
Has transformed the annual fall mowing is tea kusaba of biodiversity a special Habitat. Tea kusaba, observed more than 300 kinds of grassland plants, endemic species and endangered species has been confirmed.

And the world agricultural heritage site?
Official name "globally important agricultural heritage system(GIAHS)"Said, globalization, environmental degradation, that promotes traditional agriculture is on the road of the decline due to the impact of population growth and culture, landscape conservation and sustainable use objectives in 2002(0/2002)The program was established.
United Nations food and Agriculture Organization International Organization aiming at securing a stable supply of food(FAO)The globally important agriculture and land use as well as intended, including cultural aspects related to agriculture, ecosystems, landscape, customs and traditions, to the next generation to inherit.

* Certification of world agricultural heritage is 13 31 points at 5/2014 at the end of the.
In Japan, our promotion Council configuration municipal area is certified in the Niigata Prefecture Sado region, area, Noto, Ishikawa Prefecture, ASO area in Kumamoto Prefecture, USA kunisaki peninsula in Oita Prefecture, Shizuoka Prefecture.


Depth steaming green tea production areas
Shimada city, us(Formerly Kanaya-machi)The apply of course.
Thick tea leaves can withstand for Satoyama made diligent and take the morning mist, steaming for a long time it has become. Become a bona-fide deep steaming tea.
このページは自動的に翻訳されました。元の内容と異なる場合がありますので、ご注意ください。
このページは自動的に翻訳されました。元の内容と異なる場合がありますので、ご注意ください。
このページは自動的に翻訳されました。元の内容と異なる場合がありますので、ご注意ください。